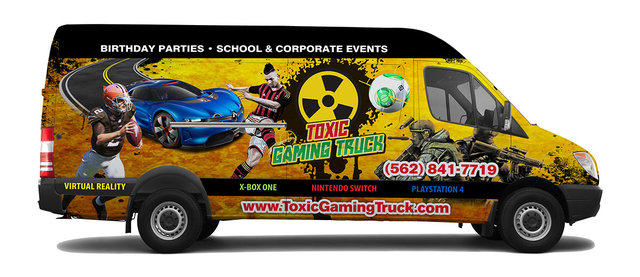 Toxic Gaming Truck

Rent our NEW Toxic Mobile Video Gaming Truck for your next special event. Great for birthday parties, corporate events, school/church events, colleges, family picnics, city events and festivals. Priced at $350 for the first two hour, and then with the option to rent additional hours at $100 per each extra hour. You get to specify which games you want (or don't want) during your party. If you need a specific game let us know and if we try to have it before your event. Recommended for ages 6 and up.

This awesome all in one unit can pull right up to the location of your choice and be completely operational within minutes. Multiple large HD flat screen TV's, all the coolest games and controllers in this air-conditioned, rolling command center of fun!

This service is not discountable. No coupon codes or discounts can apply to this service. No cash discounts applicable for this service.


Holiday Rentals:
4 Hour Rental minimum for Holidays (Easter, Memorial Day, 4th of July, Halloween, Thanksgiving Day, Christmas Eve and New Years Eve). We are closed Christmas Day and New Years Day.

Unit Features:
6 HD flat screen TV's (3 inside, 3 outside)

Newest Playing Consoles: (1) X-Box One, (2) PlayStation 4, (4) Nintendo Switch, (1) NES

Tons of extra contollers

The newer games as well of classic games for all ages (list of games below)

Can accomodate up to 20 players at once

Sourround Sound to enhance gaming experiance

Air Conditioning inside

Limo style interior with leather bench seats and LED lights

Electric Awning cover to provide shade for players outside

Included professional gaming coach who will run the entire event

FREE onboard wifi internet available for Online Gaming to play Fortnite Battle Royal
CLICK HERE TO VIEW OUR TERMS & CONDITIONS


FAQ:

1. What if I don't want my kids playing certain type of games?
Answer: We have a variety of games rated from E, E+10, T and M and usaully our game coach will ask the host if there are any restirctiosn on games. If not feel free to let us know in advance when you book. For all school events we only provide E and E+10 games.

2. Do you have rules we need to know before? Do we need an adult to be present?
Answer: Our game coach will explain all rules to all players before and our Toxic Gaming Truck will also have rules posted. Our rules are simple:
-No food, No beverages, No gum, No pets are allowed inside
-Players must ramin seated at all times while inside
-Do not grab controllers, grab games, touch screens or consoles, game coach will pass everything out
-No horseplaying or foul launguage allowed
-If you would like to change a game, quit a game or need help with a game raise your hand and the game coach will assist you
-Must be at least 6 years old to play games alone, if under 6 an adult must be present. Must be at least 12 to play Virtual Reality.

3. Do you need an adult present?
Answer:

We require that one responsible adult remains at the event for its duration. Parents are more than welcome to be inside the gaming truck during the event but not required. Each event is hosted by a professionally trained and background screened attendant who will ensure the success of each event. Our attendants always do their best to involve everyone, regardless of their skill level.



4. What happens if it rains or its hot outside?
Answer:

Our video game truck is fully insulated with climate control. We have Air Conditioner for the summer and Heater for the winter. Rain or shine we will be there. Please Note: during rain we will not open the outside TV's in order to protect electronics so the number of players can be limited inside only.



5. How much is it to book an event and deposit required?
Answer:

Price is a flat rental fee of $350 for the first 2 hours. With the option to rent it for extra hours at $100 per hour. Deposit to book is 10% of your order total.



6. Do you offer School Discounts or Weekday Specials?
Answer:

We do! We offer a School only special pricing for weekdays. Special pricing is for Monday-Thursday (not including holidays) one hour rental for $200 or 2 hour rental for $250 with option of extra hours at $100 per hour. Friday-Sunday rentals require a 2 hour rental minimum at regular price at $350. Holidays require a 4 hour rental mininum at $550. This special weekday rate is for schools only.



7. How much do you charge for delivery?
Answer:

FREE delivery upto 25 miles from zip code 90723. Delivery fees apply for distances greater than 25 miles.



8. What is your cancellation policy?


Answer:

To cancel, you must notify us at least 24 hours before the start of your event. If notified less than 24 hours the entier balance will be charge with no refunds. If cancelled with more than a 24 hour notice then the deposit/payments made will be issued a store credit valid for 1 year of date of cancellation. All deposits and payments are non-refundable.



9. What type of Payments do you accept?
Answer:

Cash, Credit Cards, Debit Cards, Paypal and Business/School checks. No Personal checks are accepted. Please make all checks payable to "Cindy's Jumpers, LLC".



10. How much space do you need?
Answer:

Our game truck will requier 2 - 3 cars worth of parking space. Please cone off or block off where the video game truck will park prior to our arrival to avoid delays in starting your event. Our game truck measures 8' wide x 25' long x 9' high. We need a minimum of a 10' wide x 30' long parking space.



11. How long will set up take?
Answer:

Set up will take about 10 minutes just for us to turn on our TV's and game consoles.



12. Do you offer Fortnite?
Answer:

Yes, we do. We have wifi hotspot internt in our mobile video game truck and can offer online gaming free of charge with your rental so your guests can enjoy Fortnite games. Game quality depends on area internet speeds. If our wifi is not working due to service area, we may try to connect to the customers wifi if they have wifi, but again game quality depend on wifi connection strengh and speeds. Wifi is not guaranteed.



13. How many players can play max? What if I have more players?
Answe:

We can host up to 10 players inside and 10 players outside for a total of up to 20 players at once single time. If you have more guests, we recommend doing 30 mintue rotations so more players get a chance to play. For every 30 minute rotaion we can do up to 40 players per hour.



14. Do you provide chairs for outside players to sit?
Answer:

The Toxic Gaming Truck does provide provide two 6' portable benches for players to sit while palying the outside screens.



15. What if my event is indoors?


Answer:

If your event is indoors we would only require a dedicated 20amp / 110v power outlet for our game truck to plug into within 50' instead of using our onboard generator for power. For all outdoor events, we provide our own power with our quite commercial grade generator. If you would like us to run the air conditioner then we would need (2) - 110v/20amp outlets from different circuts to plug in. (Please note, for indoors events we will not be able to povide wifi hotspot so if need wifi for online games since our hotspot requires our vehicle to stay on and engine running).



16. What games do you provide?
Answer:

We try to provide all the newest games and consoles. List of our inventory of games is listed below. If you require a sertain game for your event, just let us know and we will be sure to get it if we don't already have it. You are also welcome to provide your own games if you own any you would like to play.



17. Are you insured?
Answer:

Yes, we are fully insursed and can provide a certificate of insurance verification or additionally insured certifiicate upon request. We are insured with commerical liablity and commercial auto policies.



18. Are you California State PTA Approved?
Answer:

Yes, we are! We are an approved vendor and are CA PTA approved. We also have worked with numerous PTA's and local school districts in Southern California. You can find us on the PTA website vendors page as "Cindy's Jumpers, LLC"



19. How far out do you travel too?
Answer:

We can travel to any location up to 25 miles from our warehouse in Paramount, CA 90723 with no extra delivery fees. Distances greater than 26-100 miles will be charged a travel fee based on distance. For distances greater than 100 miles, please contact us for quote.
20. Can you host an event at a Park?
Answer:
Yes, while most parks allow video game trucks as long as they are parked on the curb on the street or at a legal parking stall in a parking lot most parks allow video game trucks. If a specific park requires a video game truck vendor to have liability insurance and commerical vehilcel insurance, just give us a call and we can provide that to the park. Most parks only have one rule, no driving or parking on the park grounds or grass areas. Check with the park first to see if a special permit is required, if so the customer is responsible to pay the permit fees and obtain permit.
Game Ratings
EVERYONE
Titles rated E (Everyone) have content that may be suitable for ages 6 and older. Titles in this category may contain minimal cartoon, fantasy or mild violence and/or infrequent use of mild language.



EVERYONE 10+


Titles rated

E10+ (Everyone 10 and older)

have content that may be suitable for ages 10 and older. Titles in this category may contain more cartoon, fantasy or mild violence, mild language and/or minimal suggestive themes.



TEEN




Titles rated

T (Teen)

have content that may be suitable for ages 13 and older. Titles in this category may contain violence, suggestive themes, crude humor, minimal blood, simulated gambling, and/or infrequent use of strong language.





MATURE




Titles rated

M (Mature)

have content that may be suitable for persons ages 17 and older. Titles in this category may contain intense violence, blood and gore, sexual content and/or strong language.




Game List


Click here to see our Game List



XBox One


NBA 2K19 - (1-4 players) -

E
Forza Horizon 4 - (1 player) - E


Minecraft - (1-4 players) -

E+10


NHL19 - (1-8 players) -

E+10


WWE 2K19 (1-6 players) -

T
*Fortnite - (1 player) - T
Star Wars Battlefront 2 - (1-2 players) - T
UFC 3 - (1-2 players) - T
Trails Rising (1-2 players) - T


Battlefield 1 - (1 player) -

M
Mortal Kombat XL - (1-2 players) - M


Battlefield 5 (1 player) -

M


Halo: The Master Chief Collection - (1-4 players) -

M
Call of Duty: Advance Warefare - (1-4 players) - M

PlayStation 4


FIFA 19 - (1-4 players) -

E
NBA 2K19 - (1-4 players) -
E
Overcooked 2 (1-4 players) - E
Madden 19 (1-4 players) - E
NBA 2K Playgrounds 2 - (1-4 players) - E
TrackMania Turbo (1-4 players) - E
LEGO DC Super Villians (1-2 players) - E+10
Minecraft - (1-4 players) - E+10
*Plants vs Zombies GW2 - (1-2 players) - E+10
*Fortnite - (1 player) - T
Injustece 2 - (1-2 players) - T
MLB The Show 19 (1-4 players) -T
Marvel vs Capcom Infinite (1-2 players) - T
Street Fighter 5 - (1-2 players) - T
Spiderman - (1 player) - T
Mortal Kombat 11 - (1-2 players) - M
Call of Duty: Black Ops 3 - (1-4 players) - M
Call of Duty: Black Ops 4 - (1-4 players) - M
Call of Duty: Infinite Warfare - (1-4 players) - M
Call of Duty: WW2 (1-4 players) - M

Nintendo Switch
Overcooked 2 - (1-4 players) - E
NBA 2k Playgrounds 2 - (1-4 players) - E
Captain Todd: Treasure Tracker - (1-2 players) - E
Donkey Kong Country: Tropical Freeze - (1-2 players) - E
Sports Party - (1-4 players) - E
Party Arcade - (1-4 plyaers) - E
Super Mario Bros U Deluxe (1-4 players) - E
Mario Kart 8 Deluxe - (1-4 players) - E
Just Dance 2019 - (1-6 players) - E
Super Mario Party (1-4 players) - E
Mario + Rabbids: Kingdom Battle - (1-2 players) - E+10
Carnival Games - (1-4 players) - E+10
Super Mario Odyssey - (1-2 players) - E+10
Super Smash Bros Ultimate - (1-8 players) - E+10
Splatoon 2 (1 player) - E+10
Minecraft - (1-4 players) - E+10
Cars 3: Driven to Win - E+10
Legend of Zelda: Breath of the Wild - (1 player) - E+10
Arcade Pac- (1-3 players) - T
*Fortnite - (1 player) - T

Nintendo Entertainment System NES Classic Edition
The all-in-one system includes 30 favorite NES games (rated E - Everyone):
Bubble Bobble
Castlevania
Castlevania 2: Simon's Quest
Donky Kong
Donky Kong Jr
Double Dragon 2: The Revenge
Dr. Mario
Excitebike
Final Fantasy
Galaga
Ghosts' N Goblins
Gradius
Ice Climber
Kid Icarus
Kirby's Adventure
Mario Bros.
Mega Man 2
Metroid
Ninja Garden
Pac-Man
Punch-Out!! Featuring Mr. Dream
StarTropics
Super C
Super Mario Bros.
Super Mario Bros. 2
Super Mario Bros. 3
Telmo Bowl
The Legends of Zelda
Zelda 2: The Adventure of Linksuch as Final Fantasy, Super Mario Bros and Mega Man 2.

*Requires wifi internet

Like us on facebook.com/toxicgamingtruck
Follow us on instagram.com/toxicgamingtruck

Click here to view our service are Map