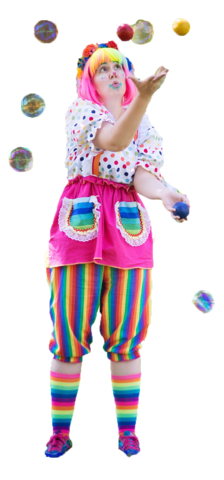 Clown
Hire our clown for your next event with a minimum rental of 1 hour for only $175 and each additional half hour only $80. One clown can accommodate 10-12 kids. For every extra 5 kids please add another 30 minutes of service, or hire more than one clown. Our clowns will play non-competitive games so all kids of all ages can enjoy. They will also face paint, make balloon animals and do a silly magic show. Our clowns are all Females.

Please book at least 2-3 weeks before event date. Our clowns always get booked fast. Delivery fees will apply.

This service is not discountable. No coupon codes or discounts can apply to this service. No cash discounts applicable for this service.

1 Clown
1 Hour - $175 (10-12 kids)
1.5 Hours - $255 (15-17 kids)
2 Hours - $335 (up (20-22 kids)

2 Clowns
1 Hour - $350 (20-24 kids)
1.5 Hours - $510 (30-34 kids)
2 Hours - $670 (40-44 kids)

Discounts do not apply to this service.