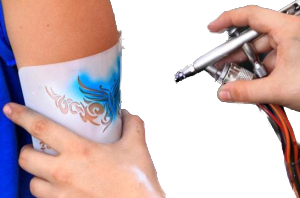 Airbrush Tattoos
Airbrush Tattoos are perfect for all types of events with lots of kids and families. Each airbrush tattoo only takes about a minute to complete which means more fun and more people we can accomodate. The airbrush tattoos are fast, clean fun, water washable, and completely non-toxic. They are created with alcohol based makeup and can easily be removed with rubbing alcohol. The tattoos are waterproof and will last 3-7 days. We have over 100 different tattoos to choose from. Tattoo artist can produce up to 25-35 tattoos per hour.

Price is $175 for 1 hours, each additional hour hour is $50.
This service is not discountable. No coupon codes or discounts can apply to this service. No cash discounts applicable for this service.
Holiday Rentals:
4 Hour Rental minimum for Holidays (New Years Day, Easter, Memorial Day, 4th of July, Halloween, Thanksgiving Day, Christmas Eve). We are closed Christmas Day and New Years Day.