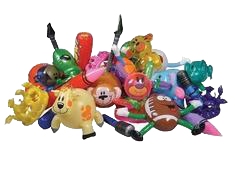 72 Assortment Carnival Prizes
Purchase our carnival prize kit that includes 72 pieces of inflatble prizes in assortments from 8"-23" inflatables. This super fun collection features a wide variety of prizes for kids ages 5 and up. Cost is only $2 per prize.
*Customer responsibility to fill up prizes with air.