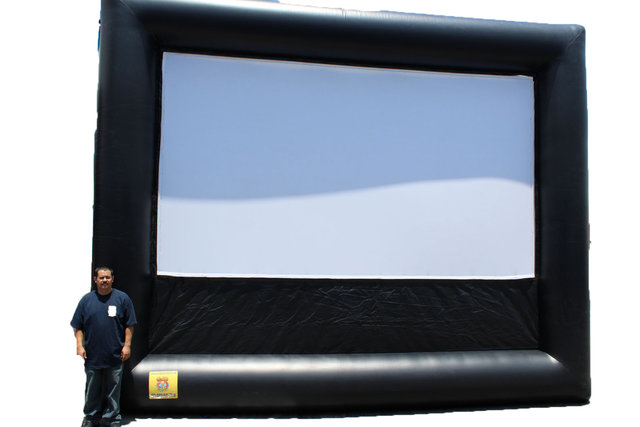 16'x9' Inflatable Movie Screen, Sound System, Projector
Our outdoor inflatable movie screens are great to watch dvd movies, watch sporting ppv events, play slideshows for weddings or play any gaming console on the big screen. Customer must provide own movie or gaming devices. If connecting to a cable box please make sure cable hdmi cable reaches the projector which sits a few feet away fromt the inflatable screen depending on the size. Please make sure to have an electrical outlet within 50 feet. We also must set sut up on flat serface such as grass or cement only. WE WILL NOT SET UP ON DIRT!

Click here to check the End of Civil Twilight by date and city click here:
Civil Twilight Info
. The darker the set up location, the better image you will get. Rental duration is up to 4 hours. Latest pickup is 11pm. Additional hourly rental can be arranged for an extra fee. Projector will be set up directly in front 30' away from the screen.
The Portable Movie Cinema Rental Includes:
Set up

17.5'H x 13'H Frame with 16'x9' viewing screen

Wrinkle-free, theater quality screen surface

Air blower 1hp with quiet soundproof box

Custom-built "Cinema Box" for safe handling of the Audio-Visual Equipment

HD 1080p Epson projector with built in dvd player - 6000 Lumens

Sony Blu-Ray DVD Player

2 - JBL professional 15" speakers on tripods and 2 JBL subwoofers, mixer and microphone for anouncements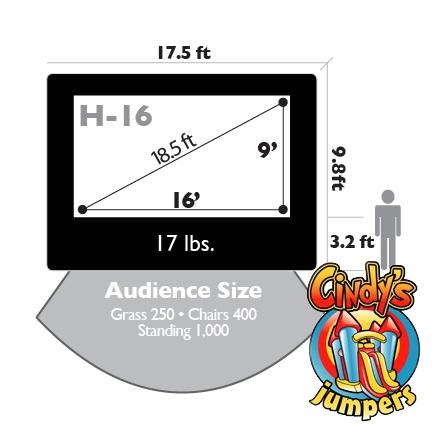 What is a "Public Performance"?
How many times have you seen the FBI warning at the beginning of a DVD Movie? Next time you pop a DVD into the Player, read it closely. It states that the movie is for" Home Use only". Home Use means just that: viewing of a movie at home by family or a close circle of friends.

What The Law Says?
Under the Copyright Revision Act of 1976 all non-private exhibitors of registered copyrighted videos or DVDs must obtain a Public Performance License. "Willful" infringement for commercial or financial gain is a federal crime carrying a maximum sentence of up to five years in jail and or a $250,000 fine.

If I Don't Charge Admission, Do I Still Need A License?
Yes, copyright laws apply whether or not admission is charged

I Own The Movie. Do I Still Need A License To Show It Outside Of My Home?
Yes, neither the rental, purchase or lending of a video or DVD carries with it the right to exhibit movies outside the home.

What If We Are A Non-Profit Organization, Church Or Government Agency, Do We Still A License?
Yes. Copyright laws apply to all viewings of movies that take place outside of the privacy of a home, regardless of the organization holding the event.

To Obtain a Public License
Obtaining a public performance license is relatively easy. The licensing companies determine fees by such factors as the number of times a particular movie is going to be shown, how large the audience will be and so forth. Most licensing fees are based on a particular performance or set of performances for specific films, the major firms that handle these licenses include:

Criterion Pictures
www.criterionpicusa.com
(800) 890-9494

Swank Motion Pictures, Inc.
http://www.swank.com
(800) 876-5577

Note: Criterion Pictures and Swank Motion Pictures are not competitors, but represent different studios.

Motion Picture Licensing Corporation (MPLC)
Yearly site License for organizations with members (Camps, YMCA, HOAs)
www.mplc.org
(800) 462-8855